Whether you're brand new to urban sketching or a confident artist, this engaging, video-based online course teaches you step-by-step how to go from blank page, to capturing the bustle and beauty of the world around you, in the unique and fashionable style that is urban sketching.
Each carefully constructed tutorial takes an over-my-shoulder approach to teaching – all delivered by artist Ian Fennelly in his authentic, warm and humorous style, that simply doesn't feel like learning.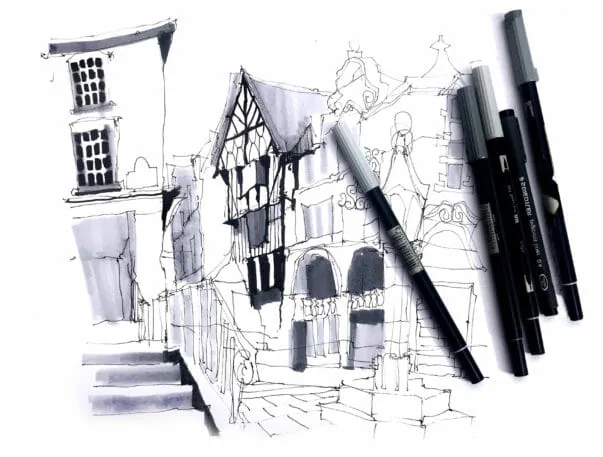 Through Urban Sketch Course, Ian breaks down his well-loved style into easy-to-follow steps, while revealing sketching and painting tricks and techniques he has developed and refined through years of dedication to the craft of urban sketching.
Best of all, you can do it too! To learn urban sketching, all you need is a fine-line pen, a simple sketch book and a willingness to watch, listen and learn from a coveted urban sketcher and captivating teacher.
Urban Sketch Course Modules
Urban Sketch Course consists of eight, packed artistic training modules, delivered instantly to your computer, tablet device or Smart Phone through professional video tuition.
Each module in the course has been carefully crafted to give you an extraordinary arsenal of drawing and painting techniques you can apply immediately to make your images dazzle. And don't worry if you're not naturally 'artistic' because we start with the very basics before leading you gently up to more advanced techniques.
Importantly, you can pause and rewind each lesson and watch them as many times as you like until you've mastered each technique. You have lifetime access. It's the equivalent of working alongside an experienced instructor and being able to tap into their knowledge, 24/7.
Module One: Introduction
Here's what's covered in this module: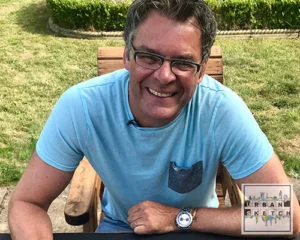 Understand what Urban Sketching is
Understand the background and origin of Urban Sketching
Identify equipment you will use throughout the course
Get to know Artist Ian Fennelly
Much more!
Module Two: Architectural Sketch
Here's what's covered in this module:
Understand how to simplify shapes
Understand scale and perspective
Identify equipment you will use throughout the course modules
Understand how to compose and frame a sketch
Much more!
Module Three: Rural Sketch
Here's what's covered in this module:
Have an understanding of what a rural sketch is
Learn how to effectively use negative space
Understand tone
Learn about mark making and texture
Learn how to start a sketch using paint as your medium
Much more!
Module Four: On location: The Cross
Here's what's covered in this module:
Understand how to deal with crowds on location
Learn how to set up effectively on location
Understand the problems faced with sketching on location
Learn how to make the most of 'white space' and use it to your advantage
Understand how to use local colour
Learn how to create depth in your sketches
Much more!
Module Five: On location: The Clock
Here's what's covered in this module:
Understand and learn how to sketch intricate patterns and detail
Understand proportional structure and scale
Learn how to mix local colour with expressive colour
Be able to balance your composition
Create 3D effects with visual patterns
Much more!
Module Six: On location: The Bandstand
Here's what's covered in this module:
Understand the importance of context and setting
Learn to sketch around a focal point
Understand how to control the elements in your sketch
Learn how to mix rural elements with man made
Understand how to utilize tones and hues
Much more!
Module Seven: On location: The Bridge
Here's what's covered in this module:
Experiment with taking risks
Learn how to apply and draw with paint straight onto paper
Develop your personal and emotional connection with your urban sketch
Learn how to blend paints and colours
Learn how to evaluate your surroundings
Much more!
Module Eight: Self-Assignments
Here's what's covered in this module: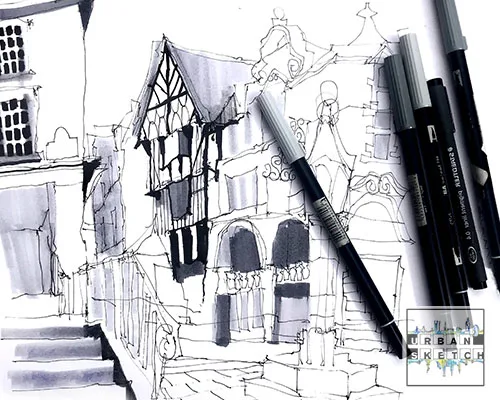 Create your own textures
Go out on location independently
Sketch from household objects
Use light to create 3D objects
Much more!
Student support
We live in a society where the pressures of daily living are high with financial expenses, personal and work commitments, and mortgage and rental obligations. Then there are the unexpected life challenges that also get thrown our way. With this in mind the thought of taking on study can be daunting for most people. Here at Learning Cloud we understand that life doesn't run in a straight line it has many ups and downs.
As an enrolled student at Learning Cloud, you are entitled to access a variety of non-academic support services from the Student Services Unit. These supports are designed to walk beside you throughout your studies they will assist you in life's ups and downs to provide you the best opportunity to successfully complete your chosen course.
STUDENT SERVICES PROGRAMS INCLUDE:
Careers Counselling Service
General Counselling Service
Disability Liaison Service
Retention & Engagement Service
Student Activities
Accommodation
E Counselling
Your-Tutor
Parent support
Reasonable Adjustment Plan (RAP)
Call our student support today on 0800 000 361 or Email Faculty
Get more information
Want more information about financial and student support? Fill out the enquiry form to the right and a study consultant will contact you with the details you need.
How will this course advance my career?
Learning Cloud programs have been developed in response to industry demand and are specifically designed to equip graduates with work-ready skills. Each participant will be trained and assessed in theory and in practical tasks and Real-world exercises are used throughout the program.
Studies prove, time and again, that college-educated workers earn more than those with only a high school qualification. College graduates often enjoy additional benefits, including greater job opportunities and promotions. Though the proof for greater earning potential exists, some might wonder whether the cost of the education warrants the overall expense in the long run.
College Graduate vs. Non-Graduate Earnings
The National Centre for Education Statistics (NCES) analyses employee earnings data biennially, according to education level. Findings indicate that workers with a qualification earn significantly more than those without. Since the mid-1980s, education has played a large part in potential wages, with bachelor's degree holders taking home an average of 66% more than those with only a high school diploma do. While college-educated workers' wages have increased over the past two decades, those with only a high school education have seen decreases in annual salaries in the same time period (nces.ed.gov).
How else will I benefit from studying with Learning Cloud?
Studying online or distance means you can study where you want and at your own pace.
Receive career-focused training with practical, hands-on learning.
All course materials are provided and all digital platforms are interactive, work on any device and designed to be fun.
Recognition of Prior Learning or Skills Recognition may be available for previous work experience, formal training or qualifications in this field.